Celebrate the holidays with us
See the full web version of this newsletter
The holiday season is well underway but we hope you'll carve out time in your hectic schedule to join us for some lovely musical performances this month.
UIC Chamber Music
This week brings two opportunities to hear music majors in eclectic chamber music recitals. From brass to vocals to string quartets, experience music of Mozart, Berlioz, Ewazen and more.
Tuesdays-at-One
December 3, 1pm
Chamber Music Evening
December 4, 7:30pm
Recital Hall (L060)
1040 W. Harrison St
Holiday Concert
December 7, 7:30pm
Grace Episcopal Church
924 Lake St, Oak Park
The UIC Choirs, String Orchestra & Concert Band
Directors: Michael J Anderson, Andrew Lewis, Daniel Black, and José Oliver Riojas
Get in the festive spirit with this joyous celebration of the holiday season ranging from perennial favorite Tchaikovsky's Nutcracker Suite to Saint-Saen's delightful Christmas Oratorio.
Puppetry with Blair Thomas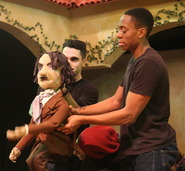 In November Blair Thomas led a fascinating master class for theatre majors on the art of bunraku puppetry.
Our music and theatre master classes are always open to the public to observe. Follow us on Facebook to receive reminders about guest artists next semester.
School of Theatre & Music
NEW
BOLD
INCLUSIVE
RELEVANT
The School of Theatre & Music provides innovative, rigorous, and comprehensive academic and performance programs as part of its diverse, urban context. These programs develop practical knowledge, cultural sensitivity, intellectual resourcefulness, and imaginative daring in emerging artists and scholars. They connect students to Chicago's abundant, vibrant theatre culture and to the city's dynamic jazz and classical music networks.